eBook Social Engineering Engagement Framework (SEEF) - FIRST CUT D.C. BRACK A. BAHRAM
If you are observing the social engineering landscape in terms of social engineers, documentation, and frameworks out there, you will realize the topic has, as we call it, a low maturity. Low maturity means there are no well-defined processes or defined frameworks in which professionals can apply and benchmark themselves. Today's landscape is little like the Wild West. There is a lot of fear, uncertainty, and doubt (FUD).
With SEEF we want to oppose this situation. As you maybe have seen, our motto is visible on the book covers badge: Docendo – Discimus. It is a Latin proverb and means: "By teaching, we learn." This is what we want. We want to teach anyone interested in social engineering the skills to do it properly, professionally, and ethically. This is Social Engineering Engagement Management (SEEF) — FIRST CUT. It is literally the first cut of the framework that we have pioneered and want to share.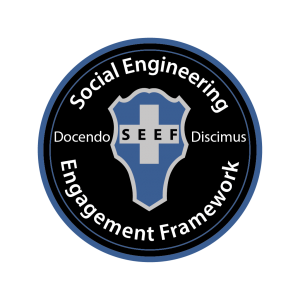 Buy the book
If you are a social engineering nerd and want to get insights on some of the latest concepts and developments in social engineering.
If have to integrate SE into your risk framework.
If you are seeking advice from social engineering consultancies and you want a more robust risk framework for scoping.
If you like us and you want to support us so that we have the funds to extend our SEEF.
If you are a team member from one of the authors' place of work, in order to get into their good books.
If you are curious about social engineering.
If you are one of the authors or you are related to them.
If you want to become a professional social engineer.
Don't buy the book
If you are looking for one-to-one instructions; the book has some detailed instructions and definitions on processes, but it is not an instruction booklet.
If you expect a totally finished and polished, politically correct publication. That's not what this book is; it's rough, incomplete, probably biased and edited to the best abilities of non-native English-speaking authors.
If you are a superstar social engineer and resistant to learning or advice.
If you are a know-it-all.
If you have no money for books, "try instead to socially engineer a copy from one of the authors.
If you only want to complain about the authors.
If you are a hacker; hack it somewhere or download it and then show off with it.
If you are a publisher and you want to publish our next book; we will gift you one.
Basic book data:
Pages: 156
Ebook version (pdf, pub, mobi)
Front cover (jpg)
You'll get 1 MOBI, 1 PDF, 1 EPUB and 1 JPG
100% SSL Secure